2,065.
Those are the amount of days Georges St. Pierre spent as the reigning UFC welterweight champion before making the decision to vacate the title in order to take an indefinite leave of absence from the sport he dominated for so long.
So with the 170-pound suddenly up for grabs belt, the UFC quickly booked one the most exciting matchups in recent memory to serve as the main event for UFC 171's main event in Dallas, TX.
In one corner stands the hard-hitting Johny Hendricks, who is coming off a controversial loss to St. Pierre back in the main event of UFC 167. In a fight many label as the reason St. Pierre is stepping away, Hendricks blasted the former champion with a bevy of punches that would undoubtedly drop the majority of fighters in the organization. With his face bloodied and bruised, St. Pierre looked like a broken man as he waited for the winner to be announced. But to the amazement of everyone in attendance, St. Pierre was declared the winner, leaving a demoralized Hendricks to wonder what went wrong as he slumped against the cage in disbelief. So it only made sense that the man who handed St. Pierre the worst beating in recent memory would serve as one half of the main event.
But standing across from him is Robbie Lawler, one of the only fighters in the welterweight division who can rival the punching power of Hendricks. Lawler is of course coming off an upset victory over the highly-touted Rory MacDonald in the co-main event of UFC 167. Prior to this win he had back-to-back knockout victories over Josh Koscheck and Bobby Voelker.
For fans of the violence inside the cage this matchup is a dream come true as both men pack pure dynamite in their 4oz gloves. So in the words of the former champion St. Pierre: "Don't blink."
Striking
Everyone knows what's coming when they face Hendricks. Relying heavily on his vaunted left hand, he became one of four fighters in UFC history to record three knockout victories in less than one minute, including a 12-second knockout over Jon Fitch at UFC 141 which stands as the second fastest in UFC welterweight history behind only Duane Ludwig's UFC record of six seconds. While he does lean heavily on his left hand, Hendricks' lunging right jabs and powerful combinations have kept standout strikers such as Carlos Condit at bay.
In their fight at UFC 158, the former interim welterweight champion pressed Hendricks against the cage numerous times. But Hendricks utilized fast head movement and footwork to reverse the position and control Condit's clinch while landing shots at will. In fact, he has landed 37 percent of his significant strikes from within the clinch, the second largest margin in welterweight history. This doesn't bode well for Lawler as his ultra aggressive style of fighting could send him home early courtesy of Hendricks' uppercuts.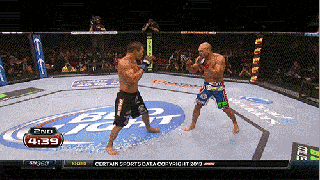 But while Lawler does bring a more polished boxing skill set into the octagon, his kicks are also much more effective than Hendricks' and has been known to throw the occasional flying knee when the time calls for it. Just ask Bobby Volker about Lawler's kickboxing skills and he'll tell you exactly what it was like to have Lawler's shin wrapped around his skull. With pinpoint accuracy and ruthless aggression, Lawler turned Volkmann's face into hamburger meat before unloading a violent head kick that forced the referee to call the fight. This not only gave him 19 knockouts in 22 professional victories but also showed the versatility of his striking attack. Add this to an incredible knockdown ratio in UFC, PRIDE FC, Strikeforce and EliteXC competition of 13-1 and chances are if lands one of his haymakers on Saturday, Hendricks will suffer his first knocked down in his professional career.
With 26 knockouts in 37 combined between these two men, this fight could come down to who can take the harder punch. History says these two are fairly even in the durability department as Hendricks has to suffer defeat via knockout while Lawler has only had the lights turned off once, in his legendary battle against Nick Diaz all the way back at UFC 47 in 2004. So while the edge in pure power has to go to Hendricks, it is Lawler who is much more technically sound and versatile giving him the slight edge.
Edge: Lawler
Wrestling
With a takedown rate of 4.61 takedowns per 15 minutes of fighting, the second highest average in UFC welterweight history and a takedown accuracy of 56.7 percent, second among active welterweights, Hendricks has already become one of the best wrestlers UFC history. With his opponents constantly looking for that incoming left hand, Hendricks, who is a 4x NCAA Division I wrestling All-American, sets them up with the a series of jabs and then explodes into a powerful double leg takedown or scoop slam. This strategy has more than succeeded as his 38 completed takedowns in the octagon are the most among active welterweight fighters and the fifth most in division history.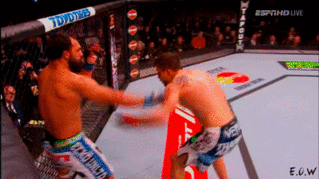 Stylistically this a nightmare for Lawler as Hendricks has excelled against fighters who look to keep the fight standing. In his matchup against Condit, who many label as the best striker in the division, Hendricks all but nullified 'The Natural Born Killer's' game plan by securing 12 takedowns, the fourth most ever landed in a single UFC fight. On one occasion Condit attempted one of his trademark flying knees against the cage only see Hendricks scoop him out of the air and drop him on his butt.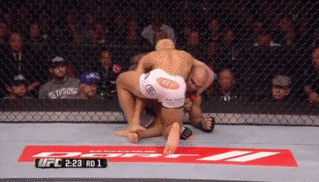 Lawler, on the other hand, rarely looks to bring a fight to the canvas. But when he does, he's surprisingly successful as he boasts a takedown accuracy of 82.4 percent in his UFC career, which is more than double the current UFC average of 41 percent. He also showed tremendous improvement in his takedown defense against Koscheck, another NCAA Division I wrestling All-American, in their matchup at UFC 157. Heading into that fight many pundits predicted Koscheck would look to take the fight to the canvas early and often. While this did end up happening, Lawler consistently scrambled back to his feet and successfully defending several more takedowns against the cage.
But in the end, Hendricks' wrestling credentials just cannot be ignored no matter how much improvement Lawler has made over the years.
Edge: Hendricks
Submission/Grappling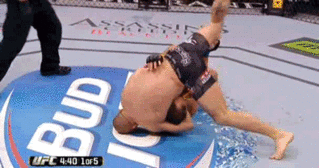 Neither of these men are known for their strong submission skills but both have shown they are not afraid to work inside their opponent's guard. Hendricks spent a significant amount of time rolling around on the canvas with St. Pierre, who happens to hold a black belt in Gracie Jiu-Jitsu, even escaping a fairly tight guillotine attempt early in the first round.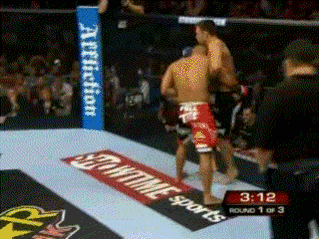 But while Lawler has spent only five minutes and 33 seconds inside of UFC octagon being controlled on the ground, the fifth smallest amount in welterweight history, he has been submitted five times in his MMA career. In a Strikeforce matchup against grappling ace Jake Shields, Lawler found himself in a very deep guillotine against the cage. Instead of defending it on the canvas he attempted to stand up and slam his opponent on his back. This didn't end up working as Lawler was forced to tap out. He should find himself in even more trouble if he leaves his neck for Hendricks get a hold of as he is much stronger than Shields
Edge: Hendricks
Prediction
Lawler is one of the few fighters in the division with similar size and power of Hendricks. If he can continue to defend takedowns as he has in his last three bouts, his chances of winning will grow exponentially. However, Hendricks has alternated knockout and decision wins in his past seven UFC victories. His most recent win inside the octagon was by decision, meaning if the trend continues, his next victory will come by knockout. Both men have the tendency to swing wildly, which should favor Hendricks in the later round as Lawler tends to fade. So if he can land a haymaker early in this fight Lawler should easily walk away with the belt. But in the end, Hendricks' powerful takedowns should play the key factor in this bout as he hammerfists his way to his first UFC title.
Hendricks via Round 3 TKO
Here are the rest of my predictions for the main card and preliminary bouts:
Main Card (PPV, 10 p.m. ET)
• Carlos Condit def. Tyrone Woodley
• Diego Sanchez def. Myles Jury
• Hector Lombard def. Jake Shields
• Ovince St. Preux def. Nikita Kyrlov
Prelim Card (FOX Sports 1, 8 p.m. ET)
• Kelvin Gastelum def. Rick Story
• Jessica Andrade def. Raquel Pennington
• Dennis Bermudez def. Jimy Hettes
• Alex Garcia def. Sean Spencer
Digital Prelim Card ( Fight Pass, 7 p.m. ET)
• Renee Forte def. Frank Trevino
• Justin Scoggins def. Will Campuzano
• Robert McDaniel def. Sean Strickland
• Daniel Pineda def. Robert White Ford