How would a Suns' backcourt of Devin Booker, Luka Doncic operate?
(AP Photo/Thanassis Stavrakis)
PHOENIX — People tend to like, and trust, what they're familiar with and treading outside one's comfort zone often raises doubts and sparks fear. For many Phoenix Suns fans, that queasy, skeptical observation revolves around a 6-foot-8, 228-pound mystery from Slovenia.
Luka Doncic's possible NBA success, though, is no enigma for new Suns coach Igor Kokoskov. The longtime NBA assistant coached the 19-year old on the Slovenian national team during EuroBasket 2017. The pair, along with NBA All-Star point guard Goran Dragic, beat foreign powers Latvia, Spain and Serbia en route to the title.
Radovan Trifunovic, an assistant coach on that 2017 Slovenian national team who was recently promoted to head coach amidst Kokoskov's departure, knew what his team had: a better one-two combination that nearly every other European foe.
"They are unbelievable and they show the potential," he said of Dragic and Doncic, a pair he mentioned were always together. "We knew we could play an offense with both of them together because they are not selfish. Goran, as a senior player, knew that Luka is a great player and he, Goran, wanted Luka to play good basketball so they played really terrific together."
Doncic, who recently became the youngest player to win the EuroLeague MVP as a member of EuroLeague champion Real Madrid, is now in contention, along with Arizona center Deandre Ayton and others, to be selected by Kokoskov and the Suns with the No. 1 overall pick in the June 21 NBA Draft.
In the deep corners of NBA Twitter, the Ayton vs. Doncic debate is drawing the same no-budging deliberation that many remember from the 2016 presidential election. Most, including eight-year NBA veteran and current Suns radio analyst Tim Kempton, have only seen Doncic on film.
Judging European basketball talent is a science even for longtime NBA scouts. But Kempton, who played in Europe for four seasons and has watched his son, Tim Kempton Jr., play in Europe this past season, has seen his fair share over overseas hoops and doesn't see Doncic as a No. 1 or No. 2 guy.
"Deandre Ayton obviously is the best player in the league," Kempton said. "He fits a need for the Suns. And he also does a lot for the community being that he's a U of A kid."
Every move the Suns make in their attempt to get back to the postseason for the first time since 2010, though, revolves around one player: guard Devin Booker. The 21-year old, who's averaged nearly 20 points a game in his three-year career, has risen to relevance despite the Suns' otherwise dormant standing.
Ayton is thinking about what he and Booker could do together.
The Nassau, Bahamas native told CBSSports Radio that when thinking about him and Booker as a tandem, "I could see a little Shaq and Kobe 2.0," he said.
Doncic hasn't tried to throw out any comparisons of his own, but if the Suns do draft the Real Madrid star, Booker could move to point guard (Dragic's position) full time, a strategy that former Suns' interim coach Jay Triano tried out in spurts beginning in January of last season.
Kokoskov understands Booker's offensive intelligence and capability to get his teammates involved. But in an NBA landscape in which the game has shifted to more of a "positionless" style, the 46-year old Serbian knows that Booker's position will not constrict his offensive prowess nor his defensive tasks.
"Devin's ability, obviously to score — (he's) such a gifted scorer and (has a great) ability to score — it just makes him so special," Kokoskov told reporters at his introductory press conference.
"So I don't think Devin, necessarily, has to guard a point guard to be a point guard. He's going to be a playmaker.
"He can playmake for other people and that kind of misinterpretation — I don't want him to guard point guards to be a playmaker. He's going to be playmaker for us and probably one of the leading scorers in this league."
Ideally, for Phoenix, Kokoskov could run a very similar version of the offense that brought Slovenia a EuroBasket Championship last year — one in which the team's two best players would both come from its backcourt. Doncic would be able to play off the ball while both guards could not only carry the scoring workload, but draw double-teams and distribute the ball.
At Kokoskov's introductory press conference, Suns' vice president of basketball operations James Jones, who played in the NBA for 14 years with some of the league's all-time great offenses, talked about what he was most impressed with while watching Slovenia's EuroBasket offense.
"Primarily, just the ability to get his best players healthy looks even though the opponent was keyed in on them," he said. "We knew that Luka and Goran were their major players, and everyone in the world knew that the ball would end up in those guy's hands. But (Kokoskov) was able to get them clean looks."
Some, including The Ringer's Kevin O'Connor, who projects the Suns will select Doncic at No. 1, have criticized his ability to gain separation on his own — making a capable point guard who can lure defenders that much more important. At EuroBasket, he had an All-Star in Dragic.
But in foregoing his primary ball-handling duties with Slovenia, Doncic was out of his element, forced to rely on someone else for the ball while revealing an apparent weakness.
"Really he is a guy who needs the ball," Trifunović said. "He'll need to improve in NBA play without (the) ball. Goran is such an experienced player that he knew that, he saw that and he put (the ball in his hands). He actually wanted him to play with the ball and he mostly played without the ball in the set offense. But on the open court, Goran was great."
At EuroBasket, Dragic was able to work his way near the paint and lure in bunches of defenders while Doncic sat behind the arc for easy triples.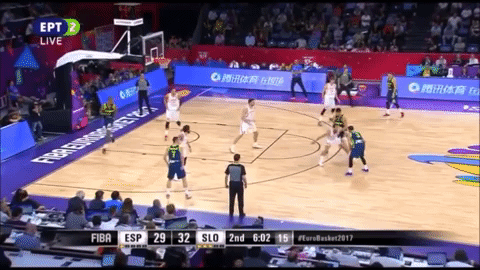 Trifunovic said Kokoskov knew Slovenia "needed to attack with drive and kick." And in the offense, Kokoskov gave his players a lot of freedom with how they wanted to execute it. The former Slovenian assistant said that players weren't required to go a specific way with each set, instead relying on others to "create off the ball."
Although in a far different offense, Booker requires the same attention as Dragic. At times when he breaks inside of the 3-point line, Booker won't drive but instead, stop and wait for defenders to collapse on him. As many as four opponents will crowd around the 21-year old, creating wide-open opportunities for his teammates.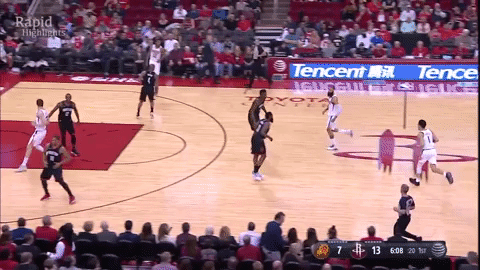 Last season, the Suns did few things right. They had the worst defensive rating in the league. They had the third-worst field goal percentage and the third-most turnovers in the NBA. But with a roster full of players who couldn't get into a bar, their young legs propelled them to the seventh-most fast-break points per game (14.4), according to NBA.com.
In Kokoskov's offense at EuroBasket — where Slovenia scored 42 more points than the next best team, according to FIBA — Doncic flashed his explosiveness and confidence in traffic emphatically.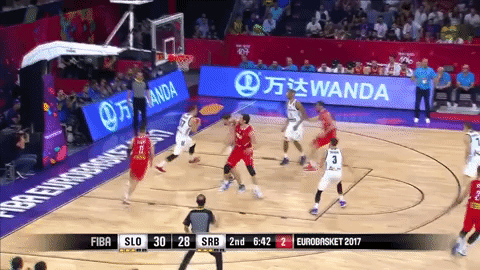 Booker has a similar skill set in fast-break situations and can push it ahead in an instant.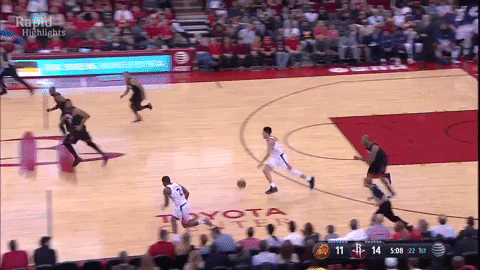 A Booker-Doncic backcourt, if nothing else, would be fun. The tandem would likely produce a fast-paced scheme bound to test the limits of the Carl's Jr. 3-point counter that hangs in the Talking Stick Resort Arena Ring of Honor.
Especially under Kokoskov, whose playbook Trifunovic praised, saying, "He has so much stuff to put players in the right positions."
But, like with most things, the selection would draw concerns.
Kempton said in dire need Booker is capable of handling the ball but doesn't believe its his ideal position. While watching the 6-foot-6, 206-pound guard transition into a point guard last year, Kempton saw Booker tire quickly while bringing the ball up the court and evading defenders early on in the play.
"(Playing point guard) tires him out on both ends of the court because other teams make him work harder," he said. "(The Suns) don't want to lose him on offense because he's too tired from handling the ball."
Kempton added that the shift didn't do any favors for Booker's defense, either — and that showed as opponents scored upwards of 110 points routinely against Phoenix.
With little avail, the Suns have tried to aid the league's worst defense in part by drafting a versatile defender in Josh Jackson a year ago. Drafting Doncic, however, likely wouldn't be a step in that direction.
In his draft guide, O'Connor notes that Doncic has trouble containing quicker players and getting over screens, observations that weren't refuted by Trifunovic.
"Look, if you know Luka, if you are a coach who likes aggressive defense all the time, angry defense all the time, you'll go, 'Oh, play aggressive,' or something like that," he said. "He's always in the right spot, he's just not aggressive — but he's always in the right spot."
A failure to be aggressive in the right spot is like having the correct answer to the wrong question — it does no good. Too often he'll get caught looking. Instead of coming off his man to contest a wide-open layup, he'll stay dormant in his designed spot for that defensive set, practically rolling out a red carpet to the basket for the other team.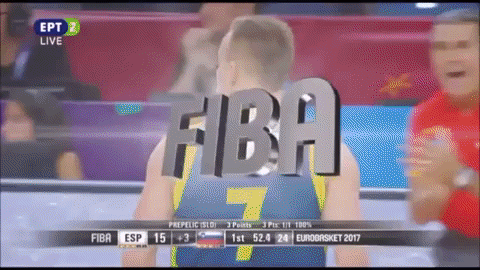 O'Connor's claim that Doncic has trouble getting over screens is just. The knock on Doncic, too, stems from his failure to be aggressive. Instead of anticipating a screen, he acts like an invisible wall just hit him and comes to almost a complete stop as his defensive assignment accelerates out of his reach.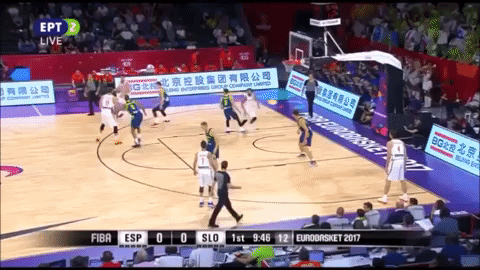 Both players' defense is unquestionably a work in progress, but Trifunovic, who said he didn't know who Devin Booker was, contextualized Donic's defensive incapabilities simply, saying the hindrance is just "space to improve his game." And as the Slovenian national team coach, who said he knew Doncic was "something special" when he was 14, kept repeating, Doncic is still a kid.
And in NBA career terms, so is Booker.
Both are young, fiery and emotional on the court — a trio of traits that fans find attractive. Booker notably yelled "This is my house!" when Suns fans were cheering for Russell Westbrook to break Oscar Robertson's single-season triple-double record in 2017.
Trifunovic said Doncic was the alpha dog on the court of a Slovenia national team that occupied numerous former NBA players.
"He's like a 30-year old guy playing basketball — all the time," Trifunovic said. "He just loves basketball so much that he doesn't feel any pressure on the court. He just wants to win."
The Suns have watched hours upon hours of tape on both Ayton and Donic. They've most likely asked Booker for his opinion on the matter. They hold the key to their future and they can't afford to take Greg Oden over Kevin Durant.
So who's it going to be?
"I have no idea," Kempton said.